Our dance studio management software comes packed with easy-to-use features to make running your studio a breeze. Setting you up for success, empowering you to do more of what you love. Meet the game-changing time hack you've been waiting for.
Transform your clients into raving fans by giving them easy, everyday access to their very own studio-branded family portal. Basically doing all the work for you, they'll be able to add students, enroll in classes, pay invoices, and more.
Less mundane admin required, freeing you up for more – it's never been easier!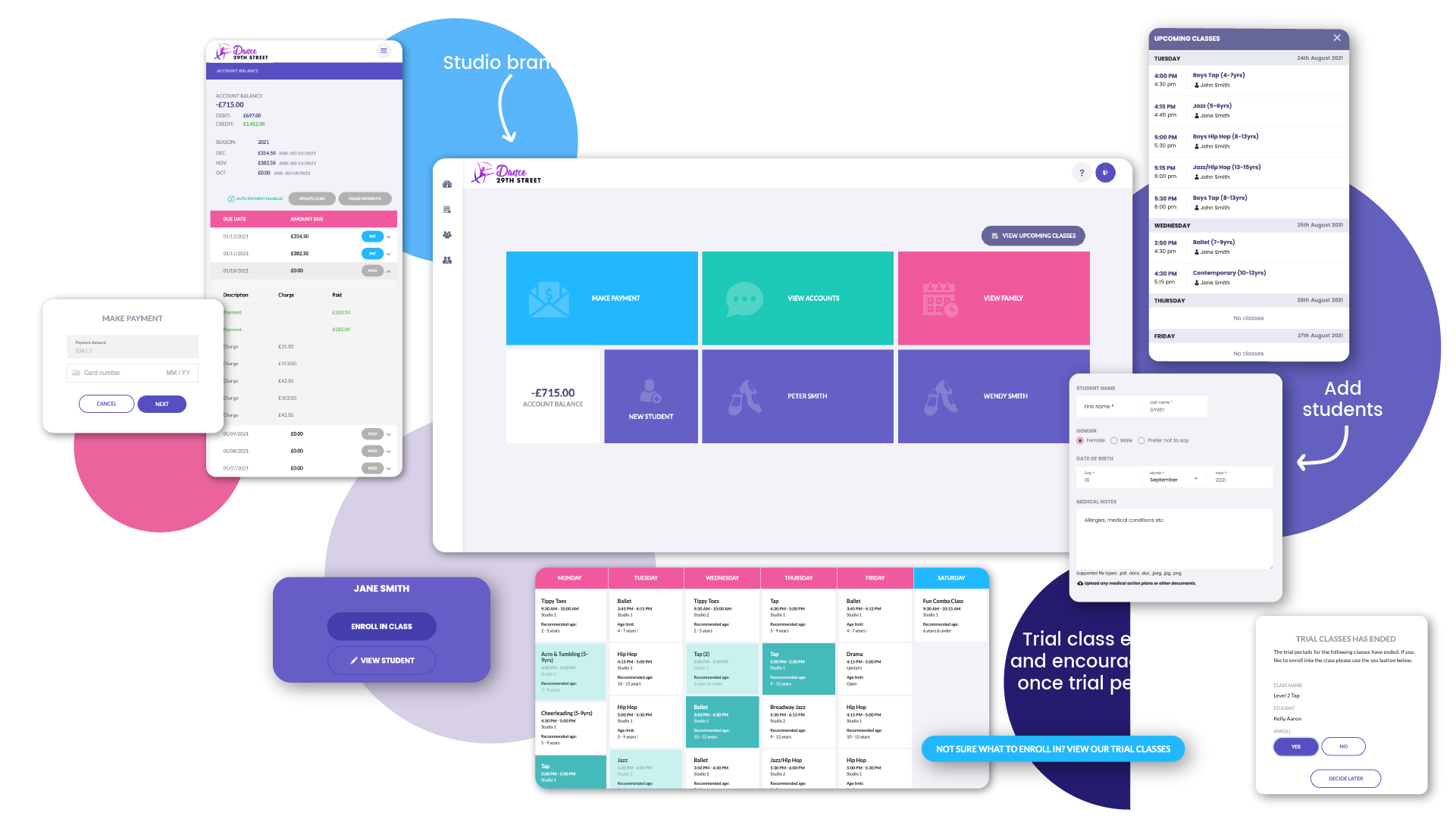 View timetable and enroll in classes, events, and more
Families can enroll in single or multiple classes, view their upcoming schedule, sign up for any events, camps, and upcoming workshops. 
Check account details and make payments online
Your clients will be able to make payments and keep track of what charges have been applied whenever they like – complete transparency, no hidden surprises.
Family Portal is mobile-friendly, perfect for those on the go
Your clients will love how easy StudioLAB is to navigate on their mobile device.  Sit back and watch your online registrations and payments roll in.
Every feature of StudioLAB is designed to let you focus on what matters most – running and growing your business. From your studio dashboard enjoy quick access to everyday tasks and key performance metrics. Smash your to-do list and track studio numbers, in a flash.
We've redefined dance studio management – and not only what software can be, but how it can look and what it can do for your business.
Save time with all your links in one place
StudioLAB makes it super easy to access those everyday tasks and key metrics directly from your intuitive dashboard
We are the number one cloud-business system that gives you visibility and control over your studio all in one place, instantaneously
StudioLAB's auto tuition feature gives you complete control of your class charges by automatically adjusting fees based on attendance history such as absence, holidays, registration dates including pro-rata settings. You can even override tuition charges with discounts, allow casual drop-in classes, or anything else you could think of. Truly the backbone of stream lining your accounts…. super powerful and easy to use.
Online Automated Payments
A dreaded item on every studio manager's to-do list, manually chasing payments is a chore. Rather than waiting for families to action payments themselves, you can now use StudioLAB to charge clients' credit cards automatically during billing periods. Phew!
Make outstanding invoices a thing of the past with a variety of different autopay options. You can require families to pay any outstanding balance before they can re-enroll in a new class, or even prompt auto pay at time of enrollment. You can easily customize this for each family.
Ditch time-consuming, manual account adjustments and effortlessly bundle classes into packages, design special deals, and fashion family-specific multi-class combos.
Our enrollment package feature makes grouping classes, creating multiple deals, setting up unlimited classes, and offering family or student packages a breeze.
Unique and customizable, 'packages' are a great alternative to multi-class discounts.
Say goodbye to the mish-mash with StudioLAB's timetabling for multiple rooms and locations. Whether your studio has 2 or 10 rooms, one or more locations, you can add them all to your timetable and schedule classes accordingly. Conveniently view your timetable by individual room or use 'view all' for a quick scan. Tired of having two separate timetables to publish and manage? We've got you! StudioLAB provides a dedicated link for you to embed within your website – students and potential clients can view current timetables without logging in or creating an account. No more double-handling and timetable confusion!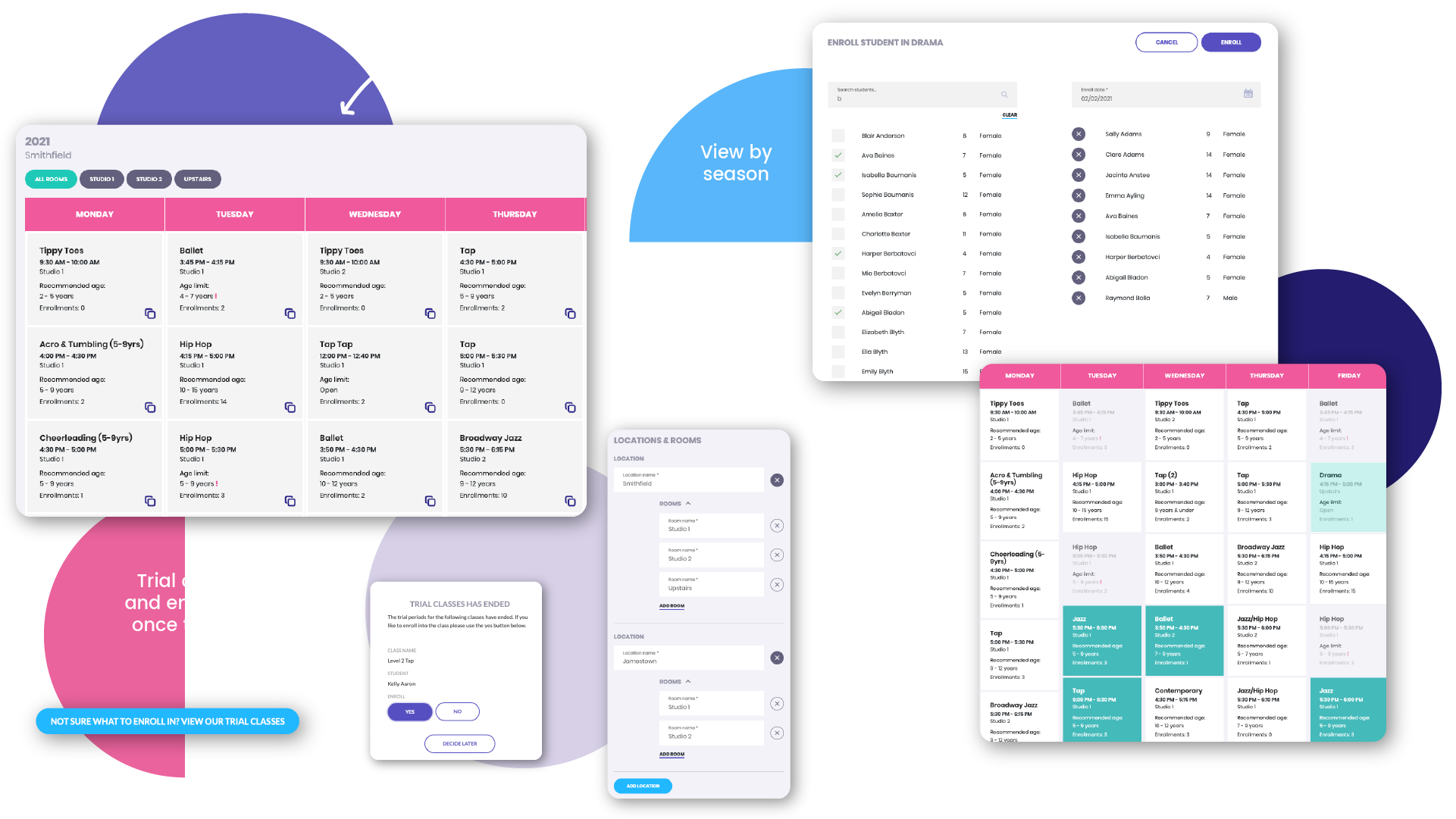 Cutting through the inbox noise, you can email and *message directly via StudioLAB! Offering instant communication with your database, you can email or *message anyone and everyone in the system – individual, class, and/or location. Super handy for updates and reminders on the fly, such as cancelled classes, student-specific messages, account reminders, instant notifications, and invoices.
Busy studio owners and families receive instant automated email notifications to confirm enrollment along with electronic payment receipts.
*Messaging integration coming soon
StudioLABs events module provides studios with a completely integrated professional way to deliver date-driven classes such as workshops, camps, and events with the flexibility to handle just about any scenario. Through StudioLAB, you can set up and schedule events all year round. From performances to camps, workshops and rehearsals, you'll have all your events neatly lined up in one place.
Built by studio managers for studio managers
With over 25 years experience, we know what you need!
Do More, Dream Bigger with StudioLAB
Our Dance Studio Management Software comes packed with easy-to-use features to make running your studio or gym a breeze. Setting you up for success, empowering you to do more of what you love.